Upon receipt of your order, we will send you a Statement of Work which defines the project scope of the pack you have just purchased. Each pack has a fixed scope and therefore a fixed price.
After you have reviewed the Statement of Work, we will contact you to insure this scope meets your requirements and is to your satisfaction. If it is, we will ask you to sign the Statement of Work and we will charge you 50% of the Pack price to schedule resources to begin the implementation. You do not have to pay the remaining 50% until post go live.
If you want to modify the Statement of Work, add some features or functionality that is not specified, we can agree this with you though any changes to the fixed scope will likely change the fixed price.
We have designed these packs to get you onto the Microsoft cloud as quickly as possible.
Process flows and specific modules included in each Pack are clearly defined so it is easy for you to understand what you are buying.
e.g. Below is a Financial Management Process flow.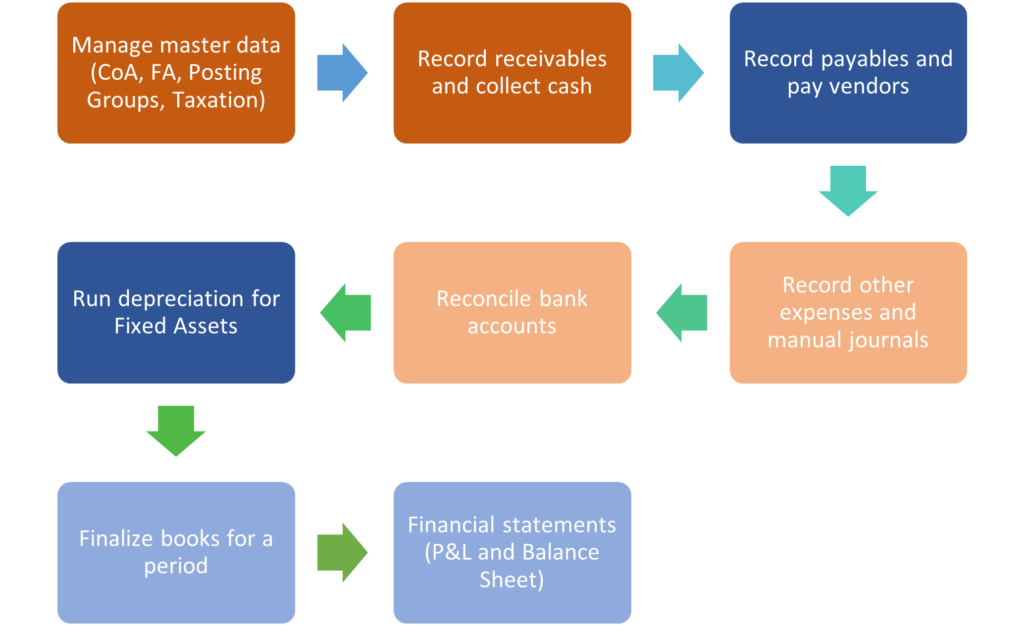 We also define a Project Schedule in the Statement of Work which maps out all the tasks to be delivered over the implementation and a Responsibility Matrix which clearly defines what tasks you as the Customer are Responsible for, Accountable for, Consulted or Informed.
A good example is the quality of the data you wish to import into the new application. Data has to be your responsibility since you understand your data: who your customers are, what your products or services do and what information you need to transact your business properly. We will provide you with data import templates to structure this data correctly but you will have to cleanse the data to make sure it is accurate. Data is therefore the Customer's responsibility and you will be responsible for cleansing and testing this data before go live.
We have made every effort to insure our Packs meet the requirements of most businesses, but we encourage all our customers to review the Statement of Work early in the process and to identify any changes that your business requires.
We are happy to amend the Statement of Work so you can be confident the Fixed scope will do what you want it to do.
Going live on the Microsoft cloud is only the first step in an ongoing journey of process improvement. Once you are live, we will schedule follow up review meetings which will help you to get the most out of the business application you have purchased by identifying process improvements. This is our model of continual process innovation because one of the advantages of joining the Microsoft Cloud is that platform upgrades every 6 months so new features and functionality will constantly be available for you to explore, utilize and benefit from.